ARLINGTON, Virginia, February 20, 2012

UMT is pleased to announce that Mr. Todd Cotsman and Mr. Henrique Ho were selected as UMT's 2012 Distance Education and Training Council (DETC) Outstanding Graduate and Famous Alumni respectively. Each year, DETC conducts its Outstanding Graduate and Famous Alumni programs to recognize the achievements of the millions who study at a distance today. Both of Mr. Todd Cotsman and Mr. Henrique Ho's stories have been published in the 2012 DETC Outstanding Graduate and Famous Alumni book and are included below.

2012 Outstanding UMT Graduate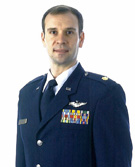 Todd Cotsman

Savannah, Georgia

…a dynamic deployment schedule pointed to distance education as the obvious choice!



While juggling family commitments with multiple deployments on active duty in the United States Air Force for over 17 years – including 12 years as a C-17 pilot – Todd Cotsman successfully completed his Master of Business Administration with a Project Management concentration at the University of Management and Technology.

Looking to further his education beyond his current career path, as a liaison with the Army at Fort Stewart, and with an airline industry lacking the luster it had shown in the past, Todd Cotsman discovered UMT's MBA track, and reasoned it would be wise to branch out; it was time for him to expand his horizons.

Because of the self-paced structure and at-a-distance flexibility of the course offerings, alongside the facts that military tuition assistance and the UMT Book Loan program left no out-of-pocket expenses, this was truly a win-win situation for him, an opportunity to retool in order to expand his job opportunities in anticipation of military retirement.

"I completed 70% of my University of Management and Technology MBA in Kuwait, Qatar, and Iraq. Textbooks shipped promptly and on-line features were available as if I were in the good ol' US of A. Talk about true distance learning!"

2012 Famous UMT Alumni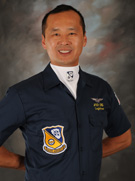 Henrique K. Ho

Pensacola, Florida

…when 9/11 interrupted his studies, he went online to complete his degrees.


After his traditional, brick-and-mortar studies were put on hold by a military transfer in the wake of 9/11, Henrique K. Ho turned to the University of Management and Technology, where he was able to earn an Associate of Science in November 2008, and a Bachelor of Science in June 2010.

If, like Henrique Ho and his family, you have moved your home address 7 times in the last 10 years, then you can begin to appreciate some of the challenges the military life has in store for those who serve our great nation. However, tuition assistance, book loan programs, the flexibility of distance programs, and participation in consortiums like the Servicemembers Opportunity Colleges (SOC) go a long way.

Henrique Ho is currently balancing the demands of providing logistics and material support to keep the Hornets and Hercules crafts of the famous Blue Angels aloft, while pursuing a Master of Science in Management online with the University of Management and Technology.

"My education has been a long and difficult path. Many institutions set such discouraging requirements and obstacles, and I did not want to keep taking classes here and there. But my luck turned around in 2006 when I found UMT!"