ARLINGTON, Virginia, January 2, 2011

UMT is pleased to announce that Mr. Esteban Roche Jr. was selected as UMT's 2011 Distance Education and Training Council (DETC) Outstanding Graduate. Each year, DETC conducts its Outstanding Graduate program to recognize the achievements of the millions who study at a distance today. Mr. Esteban Roche Jr.'s story has been published in the 2011 DETC Outstanding Graduate and Famous Alumni book and is included below.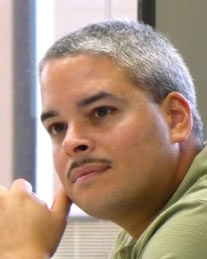 Esteban Roche Jr.

Oxford, Pennsylvania

…studying from a distance allows him to juggle family, career, and education




Seeking further education while holding down demanding jobs, Esteban Roche, Jr., discovered the University of Management and Technology, where he has completed a Bachelor of Business Administration degree, an Executive Certificate in Project Management, and a Master of Science in Information Technology degree.

Mr. Roche has worked in dynamic environments including Patrol, Tactical Response Teams, and Advanced Training. Currently with the FBI Task Force, Mr. Roche is assigned to the Philadelphia Regional Computer Forensics Laboratory, having undergone rigorous training to become a Computer Forensics Examiner. He has recently been promoted to Laboratory Quality Manager.

In addition to his work as a Law Enforcement Officer, Mr. Roche serves as a Field Intelligence Support Specialist with the U.S. Coast Guard Reserves. This past year Mr. Roche was inducted into UMT's Kappa of Virginia Chapter of the Delta Epsilon Tau International Honor Society and is now embarking on a Doctoral program in Business Administration at UMT.

"UMT's structured assignments are so practical that I can immediately apply new skills to my dynamic work environments. Distance education enhances not only my knowledge base but also increases my opportunities for growth within my profession."