DEAC Recognizes 2021 UMT Outstanding Graduate & Famous Alumni

ARLINGTON, Virginia, December 9, 2021

UMT is pleased to announce that Mr. Kelly Bieschke and Mr. George Jucan were selected as UMT's 2021 Distance Education Accrediting Commission (DEAC) Outstanding Graduate and Famous Alumni respectively. Each year, DEAC conducts its Outstanding Graduate and Famous Alumni programs to recognize the achievements of the millions who study at a distance today.

UMT's 2021 Outstanding Graduate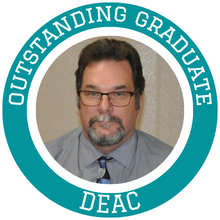 Kelly Bieschke

Quinton, VA

THANKS TO DISTANT EDUCATION HE BECAME THE BEST INSTRUCTOR IN THE CORPS





Mr. Kelly Bieschke was working as a Senior Instructor for the Army in the Basic Wheel Division of the Ordnance Corps. He needed something to give him an advantage over his fellow instructors. That's when he discovered the distance education program at the University of Management and Technology.

Kelly graduated with an Associate of Business Administration and a Bachelor of Science in Criminal Justice degree with 3.94 GPA. Since getting his degree he has been promoted to a Master Instructor, the highest level of instructor proficiency. He also has been recognized as the Instructor of the Year for the last three years. After graduating from the University of Management and Technology he has helped his department become the best department in the Ordnance Corps and has earned multiple Civilian Service Commendation Medals, Civilian Service Achievement Medals and numerous bonuses.

Since graduating he has spearheaded a program to help improve the teaching abilities of both his military and civilian instructor counterparts to be the best instructors they can be so they can graduate the best Soldiers in the world. Kelly has his annual food drive at his work to help the people of need in his community. He also does volunteer work at his church and for the community.

"AS A 20-YEAR ARMY VETERAN I USED MY GI BILL ON AND OFF AT REGULAR COLLEGES. TO ME IT WAS JUST SO DIFFICULT TO FIT IT INTO MY CRAZY SCHEDULE. DISTANCE EDUCATION FROM UMT WAS A GODSEND. I NOW HAVE THE DEGREES I HAVE BEEN TRYING SO LONG TO GET."




UMT's 2021 Famous Alumni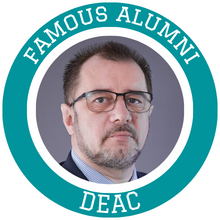 George Jucan
Ontario, Canada
LONG TIME GOAL OF CONTINUING EDUCATION BECOMES TRUE DUE TO UMT DISTANCE LEARNING
A management consultant and instructor of project management courses, George Jucan kept dreaming about supplementing his MSc degree with business-related education. Distance education made his dream come true, and in 2018 George graduated from the University of Management and Technology with a MBA degree without having to pause his career.

Formalizing his business knowledge through the in-depth curriculum offered by UMT, and particularly the project management concentration of his MBA studies, allowed George Jucan to take to the next level his services of enabling organizational performance through efficient project, program and portfolio management. Furthermore, the entrepreneurial skills gained through the MBA courses allowed him to expand into new lines of business like training and general contracting for construction projects.

Paying it forward, George Jucan continues to share his knowledge and expertise not only through paid engagements, but also through training, writing books and articles, and as an active volunteer of Project Management Institute (ISO). He also serves as the Chair of the Canadian Mirror Committee to International Organization for Standardization (ISO) for creating and maintaining the project, program and portfolio family of standards.

"AFTER OVER 10 YEARS OF NEVER BEING THE RIGHT TIME TO GO BACK TO SCHOOL, THE MBA PROGRAM WITH PROJECT MANAGEMENT CONCENTRATION FROM UNIVERSITY OF MANAGEMENT AND TECHNOLOGY ALLOWS ME TO FULFILL MY DREAM AS IT WAS A PERFECT FIT FOR MY INTERESTS, CAREER OBJECTIVES AND LIFE-WORK BALANCE."